---
From brewing accessories to outfit accessories, a thoughtful coffee-related gift is a great way of expressing appreciation for the drink. Read on for our list of 15 coffee-related products we found that are sure to delight coffee novices and longtime java lovers alike.
1. Sleep When You're Dead Coffee Poster
When in doubt, posters make great gifts. Help your friend add some serious style to their coffee corner with this tongue-in-check poster. Get it here.
2. Coffee Temporary Tattoos
For the true coffee devotee, what better way to express your love for the bean than by wearing it on your skin? Buy them here.
3. Mug Warmer
If you know anyone who works in a cold, drafty office, then you have to get this handy mug warmer. You'll help to improve their quality of life, one lukewarm-resistant cup of coffee at a time. Take a look here.
4. Coffee Chart Print
This attractive poster serves double duty as wall art and a handy coffee guide! Snag it here.
5. Steampunk Coffee Grinder
This grinder is a unique and stylish gift for someone who knows that manually ground coffee is always the best coffee.
Grab one here.
6. Coffee Slippers
Get these comfy fleece-lined slippers for that special coffee-loving someone who is always feeling a little bit too cold. Buy them here.
7. Face Mug
Nothing beats eating cookies while enjoying a big mug of java. If you know someone who likes to have sweets with their coffee, get them the mug that holds both! See it here.
8. Coffee and Chocolate Bathtub Soaks
Fact: you can never go wrong with bath soaks as a gift. This luxurious and all-natural set of bath soaks includes a coffee-scented version. Get it here.
9. Scooper and Clip
Improve someone's coffee-drinking experience with this elegant scooper that also doubles as a clip to keep coffee fresh and delicious. Buy it here.
10. Coffee Print
If you know someone with blank walls, give them some coffee-themed art to stare at while they sip their coffee. See it here.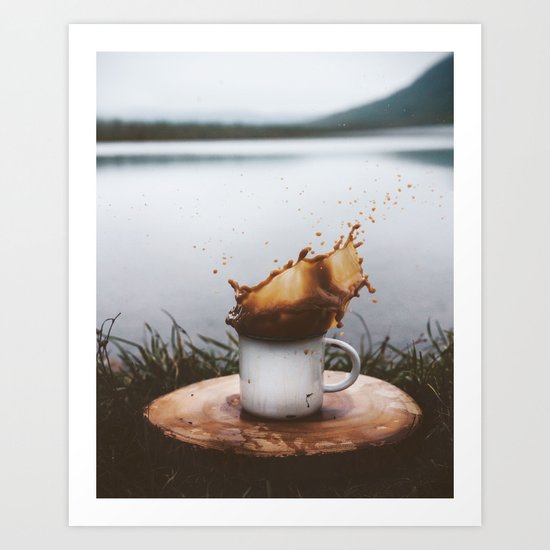 11. Coffee Facial Scrub
This purifying facial scrub contains roasted and ground coffee blended with essential oils. Learn more here. 
12. Coffee Bean Face Mask
For the coffee lover who enjoys a good pampering, give the gift of self-care with this coffee face mask. Buy one here. 
13. Coffee Shirt
When in doubt, shirts always make great gifts. See some here.
14. Personalized Mug
Every coffee lover deserves his or her own personal mug to sip their morning brew! Get it here.
15. Half Pint Glass Creamer Carton
This one wins on cuteness, and also reminds us a bit of school, but the classy adult version of your milk break. See it here.
---